Did you sneak into work again today?
You can be honest, I won't judge.
I'll go first: it can be an absolute struggle getting to work on time! There are so many factors and limitations.
You actually have to get out of bed. That's challenge number one.
You have to spend just the right precise amount of time getting ready. No, you can't let those thoughts run wild in the shower.
If you're lucky you can squeeze in breakfast, and if you're not – well, there goes your mood.
Let's not forget the traffic that we wish would magically disappear every morning. And, if you're one of those divinely blessed ones who live 1.3 miles away from work, everyone in the office secretly envies you – just so you know.
There's so many reasons and ways to be late to work, especially if you're like me and you give yourself the least amount of time possible to get ready so that you can capitalize on your beauty rest.
I used to wake up at 7:45 a.m., knowing that I had to be in my cubicle by 8:30 a.m. Yes, I enjoy living on the edge.
But, the way you start your day sets the mood for the rest of the day.
If you come into work frazzled, stressed and uncertain if you're going to get in trouble for your tardiness, your balance will be off all day. Or, at least all morning.
Getting to work on time is not for your boss or your coworkers. It's not to impress anyone. It's for yourself.
It allows you to start your day on the right foot and in a clear head space. You'll have time to think about how to tackle your tasks and projects and you'll be able to have a more productive day than if you came into work sneaking in around the corner and avoiding eye contact with everyone. We notice you dipping and dodging.
Here are 6 solutions to your punctuality problem:
CAN'T STOP HITTING SNOOZE?
Just avoid hitting snooze on your alarm. But, if your fingers just can't resist the snooze button, set your alarm to wake up at an earlier time so you can hit snooze as much as you want and still get up at the right time.
For instance, if you know that you must get up by 7:30 a.m. to get to work on time, set your alarm for 6:45 a.m. and set 2 or 3 subsequent alarms in 15 minute intervals. But, not hitting snooze is a better way to start to your day.
ALWAYS TOO TIRED TO GET OUT OF BED?
If you struggle with getting out of bed in the morning, try downloading the Sleep Cycle app. It analyzes your sleep patterns and wakes you up during light sleep. Plus, it's free.
I've been using it for almost 6 months now and it's seriously improved my sleep and my mornings. I wake up in a better mood when I use Sleep Cycle compared to my normal alarm. I rarely ever use my normal alarm these days. Alarm? What is that?
STRUGGLE GOING TO SLEEP ON TIME?
If you're an iPhone user and you struggle with going to bed on time, use the bedtime function in your alarm app. It'll notify you 30 minutes before bed. You can also use the "Night Shift" function on your phone to dim your phone's brightness at night. This helps your eyes adjust for bed.
Lastly, do yourself a favor and get off social media. All the tweets, Instagram pictures and snaps will still be there the next day for your viewing pleasure. Rest your eyes.
NEVER KNOW WHAT TO WEAR?
Before you go to sleep at night, figure out what you're going to wear the next day. Simple easy peasy, and something my mom has told me to do since elementary school. Still, it's so easy to forget this small piece of the puzzle.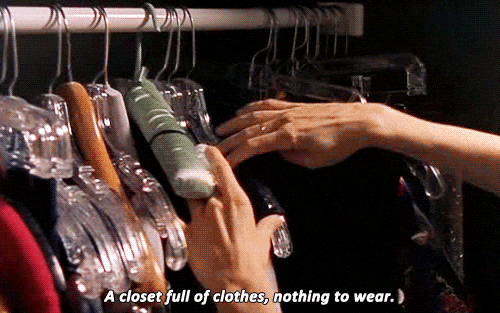 But, when you take time the night before to figure out what you're going to wear – even if it's just a mental note, you eliminate the amount of time it takes in the morning. And, you'll probably start to dress better to work, instead of recycling those same 5 shirts every week. We see you.
NEED MORE TIME MAKING YOUR LUNCH?
If you make your own lunch, prepare it the night before. As much as everyone raves about meal prepping, I will be the first to say I am not a fan. I just can't fathom eating the same thing over and over 3 days in a row and I have no interest in making several meals in one day for the whole week.
So, if you're like me and don't like meal prepping, but enjoy bringing your own lunch to work, set aside time at night to put your lunch together.
This could be as simple as making a plate of your leftovers from dinner, or picking up your favorite salad to take with you to work in the morning. This way all you have to do is grab it in the morning on your way out the door.
PAINFUL COMMUTE TO WORK?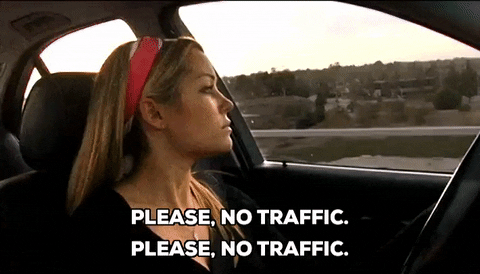 If you're commute is terribly long, first I would like to say, I feel your pain. It's the worst. But, it may be time to change up the times you head to work. I used to have to travel 31 miles to work every day. Yes, 31 miles.
On a rare unicorn day, it would take 20-30 minutes, but on a normal day it would take 45 minutes to an hour to get to work.
I later discovered that if I left at certain times to beat traffic, I could shorten my commute. I would get to work 20-30 minutes early sometimes and sit (sometimes sleep) in my car. But it was better than being annoyed and irritable in traffic.
So, what's your biggest struggle when it comes to getting to work on time? Figure out what's holding you back and create a solution for it. You'll be happy you did.
If you want more practical tips on how to be successful at work, get my free guide. And, get on it!