Adunola Adeshola:
Nigerian-American. Employee of the Year. Job-Quitter. Millennial Career Strategist & Founder of employeeREDEFINED. I'll explain.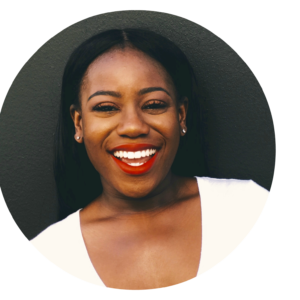 Nigerian-American
My parents did not migrate to the United States with the hopes that I would be doing what I'm doing today.
They probably would've opted for a doctor.
I considered it, until I was 8.
Instead, I pursued a career that many around me didn't even know existed: Public Relations.
Once, I was told that my passion for Public Relations would lead to waiting tables. Didn't quite happen that way.
Instead I landed a PR position at one of the top global PR agencies.
Employee of The Year
Well, not officially. There were no such awards, but you should always think positively.
That, rather, is the amount of time that I spent being an employee before I had this epiphany: one year & two months.
I worked at a great company with great benefits.
We had clients of major brands: Target, Chick-fil-a, Lee Jeans, Dolby, Deloitte, Statoil & Ford, to name a few.
We had offices all over the world from Paris to New York, London to D.C., Beijing to Los Angeles.
I worked in the Global Chairman's Office, the Business Development department, the Energy practice, dabbled in the Health Care and Consumer practices and soaked up knowledge and tools I will forever be grateful to have attained.
Job-Quitter
So, imagine the looks I received when I decided to quit my job.
Well, I received very few glares because I told very few people.
But quitting was something I just knew I had to do.
I was tired of dreading to go to work every day.
I was tired of spending hours, working late most of the time, doing things I didn't love to do.
I was tired of going to sleep depressed on Sunday nights.
I was tired of feeling like I was selling myself short.
And, I was tired of waiting for someone else to magically fix my career.
Millennial Career Strategist
The more I talked to other young professionals – co-workers, friends, and strangers – I realized that I wasn't alone. A lot of us feel the same way.
But, many of us lack the courage and resources to transition to a more fulfilling career. So, I decided to do something about.
Today, I help young professionals get more out of their careers through self realization and purposeful action.
I also help create workplace cultures that influence employees to love their jobs and find meaning in their work.
employeeREDEFINED
I created employeeREDEFINED for every young professional who can remember the last time they had a "what have I done with my life" meltdown.
For every millennial who has a hard time telling someone how they really feel about their job because, well it looks good on paper and their supposed to have everything together.
For every young professional who's scared they may have made the wrong decision in their career & who's scared to make their next move.
For every millennial who wants more happiness, more purpose, more…life, and who's willing to go after it.
Do you feel like you're settling in your career?
So, In A Nutshell...
employeeREDEFINED:
Where Driven Purpose-Minded Millennials Discover How to Get More Out of Their Careers and Lives
What to Expect
Sugar-Free Advice
I'll always give you real, no-fluff, advice that you can use to better your career and life.
Advice you can use in the office, with your friends, to travel, and in your finances.
I believe work is just one part of who we are. It shouldn't be our only focus. So that's why you'll find a little variety. Life is full of variety, isn't?
Free Stuff
I try to offer as much free material as possible.
That's why you'll stumble upon some lengthy blog posts from time to time.
In every free guide or e-book, I make sure to include practical tips, and word-for-word scripts that you can use immediately to improve your situation.
One on One Guidance
I do sell things and if you choose to work with me, you'll receive accountability, direction, step by step guidance, 100% honesty, and support that will motivate you to make the changes you want to see in your career.

Every now and then, when I do promote my services, it's only because I know that it will truly empower you to become the best version of yourself in your career.
True Commitment
I'm no genie, and I don't have all the answers. Some days are terrible. Some days I am afraid to take risks. And, some days I make mistakes, just like everyone else.
But I do know what it feels like to feel stuck in your career and I am committed to helping you discover that you don't have to settle in your career and that you can reach for more and live the life you know you deserve.
How Does That Sound?
So, if that sounds good to you, join the crew!
You'll get weekly pick-me-ups, practical advice, first dibs on exclusive services, and much more sent straight to your inbox, mostly on Wednesdays. Sometimes more often if it's important or time-sensitive.
So glad we found each other and I'm so excited for you to reach for all that life has to offer you!
Got a question? Shoot me an email, adunola@employeeredefined.com.
"Be Bold Enough to Ask for What You Want & Live Up to Why You Deserve It."
- Adunola Adeshola