Of course, we've all heard about the importance of saving.
We know how important it is to have a budget. We know that we should eventually start saving for retirement and investing in the stock market and all that other jazz.
But how can we possibly do any of those things when we have student loans, bills to pay and other essential day-to-day needs that must be funded?
As simple as it sounds to save your money, it's not an easy task to do consistently.
A recent survey found that 72% of millennials between the ages of 18 and 24 have less than $1,000 in their savings account and 67% of millennials between the ages of 25 and 34 are right along with them.
The survey also found that about 33% of millennials in general have no savings at all.
I'VE TRIED OTHER METHODS
I personally struggle with saving my money efficiently. Keeping up with bills, subscriptions to things like Apple Music, and still trying to have some sort of social life, can all cut into my pocket if I don't manage my money carefully throughout the month.
Yet, I don't believe in small tactics such as buying the $2.50 latte instead of the $3.75 latte or buying off-brand Oreos instead of the real Oreos.
Those things don't lead to permanent changes, because at some point you're going to want the real Oreos and the limited edition Pumpkin Spice Latte from Starbucks.
I tried the whole budget thing. I even created a budget sheet through my bank, Wells Fargo. And, though it made me more aware of the way I spend my money and the way I should spend my money, it didn't necessarily motivate me to save more efficiently. Honestly, it just made me feel more irresponsible because I wasn't saving enough or spending less.
So by the time I came across this one particular app, I was ready and willing to give it a try.
I'll be honest, I was a little skeptical at first. I had never used any other money-related app besides my Wells Fargo online banking app. I was a little nervous to give my banking information to an app that supposedly saves my money for me with no strings attached.
Luckily, when I stumbled across an advertisement for the app on Instagram, I was able to refer to the hundreds of comments from other millennials raving about how the app helped them save money in such a short amount of time, how it's helped them feel better about their finances and so many other positive things. So, I decided it was worth a try.
And, Digit was certainly worth it!
HERE ARE A FEW REASONS WHY I LOVE DIGIT
1. It saves you money effortlessly.
Once you connect your account to the app it saves you money painlessly. Digit monitors your spending habits and every few days it takes a few dollars out of your account – but only if you can afford it.
Depending on my balance and spending habits, it usually takes between $2 -$15 out of my account.
2. It's separate from your personal accounts.
The disadvantage to online banking is that since you always have access to your checkings and savings accounts, whenever you're running low on funds you can easily make a quick transfer to one of the accounts.
But, since Digit is not an additional account that you can see in your online banking app, the money that you save with Digit can easily be forgotten about until a rainy day.
3. You can withdraw the money from your Digit savings at any time.
Digit has personally become my emergency savings account. Whenever I need to dip into my funds to make an expensive purchase for whatever reason, I love the fact that I can use my Digit savings account without even touching my actually savings account.
4. Digit sends you a text message every day.
Digit lets you know your account balance every day. This has been super beneficial to me, especially because prior to downloading Digit I often avoided looking at my balance unless I really had to – out of fear of how much I was actually spending. Looking at my account balance always made me feel irresponsible.
Now that Digit texts me every day around 9 a.m., I no longer have to guess how much money I may have in my account and I'm able to spend wisely throughout the day, which ultimately helps me keep more money in my own checking account.
5. It is completely free.
All of the money that is removed out of your account goes to your Digit savings. There's no monthly fee removed from your account, so you never have to worry about hidden fees. Digit is backed by investors so they get their revenue through them & not us.
6. It's safe.
Your personal information is anonymized, encrypted and securely stored and all of your money in Digit is FDIC insured up to $250,000. This means that you never have to worry about your money disappearing into thin air because if something was to happen to your money, the Federal Deposit Insurance Corporation will ensure that you receive up to $250,000 of your funds back.
DIGIT HELPED ME SAVE EFFORTLESSLY
If that's not enough reasons to download the app, Digit helped me saved nearly $1,000 in a short amount of time.
I first downloaded Digit on May 25, 2016.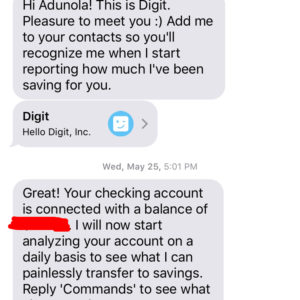 Two months later, I had already saved more than $250 – which isn't that much, but it's a lot if you didn't even have to consciously put the money to the side.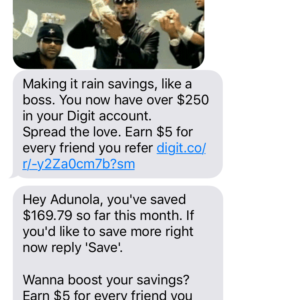 Less than 3 months later, I had saved more than $500 – again, without even making an effort to do so.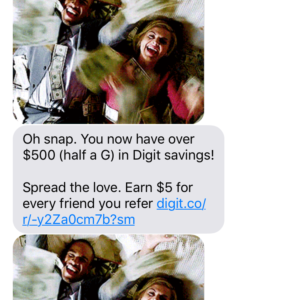 By October, I had saved about $727, which I was able to withdraw when I ran into an emergency. But with $727 extra to your name, you could easily pay for an international tip abroad. Or, you could take a weekend trip to another state and pay for your flight and stay.
In total, I've saved $859 just by having the Digit app. Others have used Digit to save $5,494, $6,585, and more.
The app has also been featured in Business Insider, Forbes, Wall Street Journal, The Huffington Post, Tech Crunch, USA Today, and many other well-known media outlets.
Another great thing about Digit is that if you share Digit with your friends and if your friends actually download the app through your personal link, you get $5 added to your Digit savings account. So, since we are spreading wisdom & love, feel free to use this link to download Digit.
Or, you can go to the app store on your phone and download it from there. Whatever method works best for you, as long as you get the app. I highly recommend it and I'm excited to see how much we would've saved by this time next year using Digit!