careerREDEFINED
Exclusive Private Coaching for Young Professionals Who Are Ready to Stop Settling in Their Careers and Land a Job They'll Love, Without Stress or Overwhelm


Have you had any of these thoughts lately?
"This is not where I thought I'd end up."
"I know I should be doing so much more in my career."
"I should be getting more out of life than what I'm getting."
"Why is it Monday already!?"
Maybe You're in One of These Places Right Now...
Most mornings, GETTING OUT OF BED IS A STRUGGLE for you because you don't want to go to work.
You find yourself either constantly bored at work or constantly busy DOING THINGS YOU DON'T LOVE to do.
You know that YOU'RE CAPABLE OF HAVING A MUCH MORE FULFILLING CAREER, you hear your friends talk about theirs all the time. You just don't know how to make it happen for you.
You've TRIED TO APPLY TO JOBS here and there but, you haven't been receiving any responses. And, if you're honest, you HAVEN'T BEEN AS DEDICATED & COMMITTED as you should be to looking for a new job.
You're TIRED OF WHERE YOU ARE IN YOUR CAREER and you wish you just knew the exacts steps you needed to transition into a more fulfilling career and life.
INSTEAD OF ALL OF THAT...
Wouldn't it be nice to have the career & life you deserve?
Wouldn't you want to be able to walk into work knowing that you're going to do something meaningful and impactful?
Don't you want to be surrounded by likeminded people who challenge you and motivate you at work?
Wouldn't it be nice to wake up in the morning excited to go to work?
Wouldn't it be a relief to no longer have to secretly check your bank account every time you go out with your friends?
Don't you want to be able to answer, "What do you do?" with a smile?
Wouldn't it be nice to still enjoy Fridays and no longer dread Mondays?
THE TRUTH: ALL OF THIS IS POSSIBLE
What if you had someone in your corner who could show you exactly what you needed to do to transition to a more fulfilling career?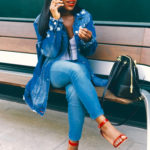 Hi, I'm Adunola
I'm a Millennial Career Strategist and I help young professionals get unstuck in their careers.
I know what it feels like to settle for less than you deserve in your career.
I used to feel secretly depressed at a job everyone thought I loved. I don't blame them, the job looked good on paper. But I wasn't happy, I just knew deep down that something was missing.
Some mornings, while stuck in traffic, I would even shed a few tears thinking about how stagnant I was in my career. Call me emotional.
But, after receiving 2 lateral promotions (without raises) and after being passed over for 2 promotions (three if you count that one time), I finally realized that I had to do something to improve my career.
I discovered the many things I was doing wrong and I created a system to boost my job hunt that landed me a new job in less than 6 weeks. I was able to improve my career and my life without becoming stressed or overwhelmed.
Since then, I've been able to help young professionals just like you do the same, and my expertise has been featured in Fast Company, Monster and The Muse.
Now, I help other young professionals do the same thing too.
When it's time to search for a new job, most people go round and round in circles.
Apply for 50 jobs without any clear focus

Submit applications online to black holes

Send the same exact resume to multiple companies

Change a few words in their cover letter

Rarely tell anyone their looking for a job, or tell the wrong people

Stumble on interview questions like, "Why didn't you like your last job?"

Fail to negotiate for the salary and benefits they want

Don't make time to consistently look for new opportunities

Give up trying because they don't believe they can have anything better than what they have now
You don't have to be like most people.
THIS IS WHY I CREATED...
careerREDEFINED
The Exclusive Program for Young Professionals Who Want to Transform from Bored & Frustrated to Satisfied & Fulfilled in Their Careers
In This 8-week Program, You'll Gain:
The clarity and direction you need to transition to a more satisfying career

The accountability you need to not give up when rejection or life gets in the way

The confidence you need to land the job you desire and deserve

The power to break the mental barriers currently hindering you from the career you deserve

Unlimited support and strategic guidance that will make your job hunt less stressful

An organized step by step system that includes word-for-word scripts, guides, checklists and templates so you never have to worry about what to do or how to say anything, while searching for your next dream job
Plus, You'll Also Attain:
A new job you love, in 8 weeks

A salary increase that will make you proud

A career more aligned with your passions, goals and values

A system that will allow you to never have to stress out about job hunting again
"I don't think anyone can be worse than where I was when I began this whole process. I had no idea where to even begin when it came to looking for a job. On top of that, I had the lowest self-image, which contributed to my job search frustrations. After just a few weeks of meeting with Adunola, I saw my entire outlook on life change. Through her counseling, I've received so much clarity. I now have a job I never thought I would get and on top of that, my self-image and self-confidence has drastically improved. I'm grateful for Adunola and would recommend her to anyone."
- Bryant O.
Who is This For?
If you know deep down that something is missing in your career and you're ready to transition into a more fulfilling position [without wasting time and without the usual trial and errors], then this is for you.
"I was stuck in between two offers. I knew which one I wanted to take. But, I didn't know how to turn the other position down since I had already accepted the offer. Adunola helped me approach the situation in a professional way and even gave me the exact words I could use to turn down the position without burning bridges. Now, I'm going to be working at the company I desired to work at since the beginning of my job hunt."
- Chris T.
Our Agenda
careerREDEFINED is tailored to meet your specific needs. I work with you one on one to help you transition into a more satisfying and fulfilling role. Here's a typical outline of what we will focus on each week.
WEEK ONE
DISCOVER YOUR PURPOSE & CREATE YOUR BLUEPRINT
You'll get crystal clear on your vision for your career, discover what's holding you back and create your own personal game plan to transition into the career you deserve.
WEEK TWO
ALIGN YOUR VISION WITH YOUR DREAM JOBS & COMPANIES
You'll learn how to find companies and positions that align with your values and vision for your career. You'll learn what to look for and red flags you should pay attention to when searching for opportunities.
WEEK THREE
RENOVATE YOUR RESUME & COVER LETTER
Using a step by step guide, you'll learn how to create a resume that grabs every reader's attention and you'll learn how to create cover letters that make hiring managers desperate to learn more about you. You'll also learn the mistakes you should avoid and how to tailor your resume and cover letter without spending hours every time.
WEEK FOUR
NETWORK LIKE A PRO
You'll get super clear on the exact people you should connect with to increase your network and gain more opportunities. You'll learn how to speak to others in a way that will make them want to help you. You'll learn exactly what to say, how to say it and when. You'll learn how to land informational interviews with strangers and how to follow-up without sounding bothersome.
WEEK FIVE
WRITE EMAILS THAT GET RESULTS
You'll get scripts and templates that show you exactly what to say when you reach out to hiring managers and recruiters. You'll learn how to stay organized in your job hunt and how to follow-up with companies of interest.
WEEK SIX
BECOME UNFORGETTABLE IN INTERVIEWS
You'll go through a mock interview to assess your areas of strengths and weaknesses. You'll learn key strategies that will help you stand out in your interviews. You'll discover how to break your mental barriers and the various ways you can overcome reoccurring mistakes in interviews. You'll also gain the confidence you need to tackle tough questions with ease.
WEEK SEVEN
MASTER THE ART OF NEGOTIATION
You'll discover the salary you should be negotiating. You'll go through a mock negotiation to make sure you're prepared to address objections and push back. You'll learn what to say, when to say it and how to overcome objections without a sweat. You'll learn how to get the job and salary that you desire.
WEEK EIGHT
CREATE STRATEGY FOR SUCCESS
You'll identify the next steps for continued success in your career. You'll define your 3-6 month career success strategy. You'll learn how to be successful at your new position from day one.
BONUSES
DONE FOR YOU RESOURCES
A career blueprint worksheet to help you get clear on your vision
Your personal dream job tracker to keep track of your dream companies
Checklist, roadmaps and guides for talking to strangers, renovating resumes, creating cover letters, killing interviews and more
Word-for-word scripts on how to email strangers, hiring managers and expand your network
Thank you templates that will help you leave a lasting impression
A negotiation worksheet so that you're prepared and never caught off guard

PLUS
EIGHT 60-MINUTE WEEKLY STRATEGY CALLS
"I hadn't had an internship since I started law school and as I finished up my second year of my program, I was determined to secure an internship. I had made connections and networked, but I was finding it difficult to manifest these relationships into real opportunities. I assumed that I was great at interviewing and didn't need much help. Little did I know, there was much for me to work on. After working with Adunola, I was able to fix flaws I never noticed before. She asked tough questions I never thought about and helped change my mindset when it relates to my career. Without the help of Adunola, I wouldn't have been able to finally secure two internships, one for the summer and another for the fall, in two different cities."
- Akunna O.
This Exclusive Program is Reserved for Driven, Purpose-Minded Young Professionals Who Don't Believe in Settling in Their Career
THIS IS NOT FOR YOU IF...
You don't believe it's possible to have a career you love
You believe work is something we all must suffer through
You believe all you have to do is follow your passion and things will fall out the sky in your favor
You don't see how you'll ever have the time to better your situation
You think it is impossible to live how you want to because life (relationships, work, family) will always get in the way
My Promises to You When You Join...
Accountability & Direction
"Thank you for another great session! I look forward to our discussions each week and feel like I'm already feeling more positive about my job search than I have been in months (maybe years!)."
- Phoebe L.
"You've given me so many new perspectives on job hunting as a whole, as well as what hiring managers look for. I am extremely satisfied! I say that because I've actually seen and felt progress from week to week. Every week has brought new task and challenges. Each time I feel the needle moving more and more in the right direction. There always seems to be some sort of forward momentum."
- Chris D.
Due to the nature of the one on one program, I only work with select individuals at a time. Schedule a complimentary call with me to secure your spot and to see if you qualify for the fast action rate.
Frequently Asked Questions
HOW MUCH TIME DO I NEED TO INVEST IN THIS PROGRAM?
If you want to see results in your career, you're going to have to put in work. The more you put in, the more you will get out and I know you have exactly what it takes to get the results you want to see. If you're willing to commit at least 5-7 hours a week, you're ready to go!
I'M NOT REALLY MAKING THAT MUCH MONEY RIGHT NOW - I'M NOT SURE IF I CAN AFFORD TO INVEST?
Honestly, shouldn't that be enough reason for you to invest? If you can't see yourself in the same position 3 months, 6 months or worst 12 months from now, you need to take action and invest in your transformation. Investing in yourself and your career are guaranteed ways to see an increase in your income.
WHAT HAPPENS ONCE I'M ACCEPTED INTO THE PROGRAM?
Once we've both decided that we're a great fit for each other, you will make your payment and schedule our first session so we can immediately get started working together to get you the results you desire in your career.
CAN WE STILL WORK TOGETHER EVEN IF WE DON'T LIVE IN THE SAME CITY?
Absolutely, technology has made life so much easier for us. Don't you just love the internet! Each session will be via Skype, Zoom, or phone, so we can connect any time, anywhere!
I'M NOT THAT ACTIVE ON LINKEDIN AND I'M NOT REALLY SURE IF I HAVE ENOUGH EXPERIENCE IN MY CAREER TO JOIN THIS PROGRAM, WILL I STILL BE ABLE TO GET RESULTS?
What have you been doing this whole time? Just kidding, 9 out of 10 the answer is of course! This program is all about purposefully positioning yourself as the best person for the positions you desire. The most important thing is proving that you have what it takes to be the problem solver and asset companies are looking for. Once you're able to see yourself in this light, everything else is a no brainer. We'll work together to get your social media presence in order and I'll will show you step by step how to implement every thing you may need.
WHAT IF I HAVE A QUESTION IN-BETWEEN OUR WEEKLY SESSIONS?
You'll have unlimited access to me at all times. So, just shoot me an email. You can ask or send me anything that you like, as often as you like! No limits!
DO YOU ACCEPT PAYMENT PLANS?
Um, yes! Of course! Once we have our complimentary call we can discuss which payment options suit you best.
I'M EXCITED! HOW DO I START?
Yesss! I'm excited too! Start by booking your strategy call with me, then I'll enroll you into the program and we'll immediately schedule our first session together!